Poll Results! + Clarifications on our Affordable Housing offering
The feedback and engagement from the community has been impressive in the two months our website has been live. In addition to your comments, we wanted to share what you, the community, feel is most beneficial about this project. Clearly, Affordable Housing is a valued component of the project as well as creating neighborhood retail opportunities.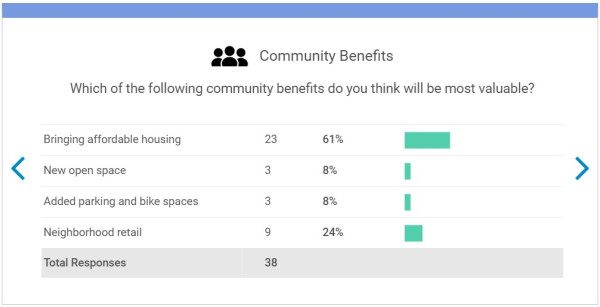 To elaborate on affordable housing, there has been some misunderstanding about what exists today on site and what is being proposed in our project. According to the City of Asheville, none of the existing apartments on site count as Affordable Housing according to the City's guidelines. The 18 Affordable Homes being proposed would count as Affordable Housing and would become part of the city's official Affordable Housing stock after completion, carrying a deed restriction for a minimum of 20 years. Those homes will also be brand new and of the same quality as the rest of the new housing we are proposing. Further, we are privately funding those 18 new Affordable Homes meaning no public subsidies or grants are being sought. The zoning designation we are seeking also does not require us to provide any Affordable Housing. We are including it because we believe Affordable Housing is an important component of any new housing project and, apparently, so do you.
We welcome further dialogue on the subject.
Opponents of our project claim we are removing 21 units of affordable housing that are currently occupied in the older homes on site. They have also suggested, and continue to suggest, that we knock down the Asheville Arms, a 56-unit apartment building, which, using their rationale on affordability, would eliminate 56 affordable units since all 56 homes at Asheville Arms fall below 100% AMI, with most falling well below 80% AMI. This kind of conflated conversation about affordable housing misses the mark and muddies the waters of what is truly Affordable Housing and what is not.