New Renderings + A Contextual Approach
We have new renderings of our for-sale housing projects within the 101 Charlotte Street plan. This additional information was requested/referenced by the City of Asheville Planning Department in their staff report to the Planning and Zoning Commission. We were happy to provide these renderings and the below information to further clarify why the 101 Charlotte Street project is contextual to its surroundings and will be a good neighbor if approved and then built. Its important to note that all of these projects represent fewer units than would be allowed by-right under the RM-8 and RM-16 existing zoning.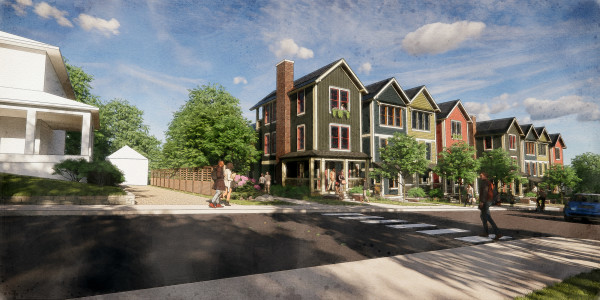 Baird Street Rowhomes:
The Baird Street rowhomes replace four small single-family structures with 20 family-sized rowhomes. Given Asheville's need for housing and Baird Street's largely single-family existing character, the Baird Rowhomes offer a contextual transition from the project's commercial buildings on Charlotte Street to the residential buildings on Baird Street. Here are some additional details:
Rowhomes will vary in size from 1,250 to 2,300 square feet and most will have internal garages.
The rowhomes will have small private outdoor spaces which will be supplemented by the project's 1.3 acres of publicly accessible open space, immediately adjacent.
Rowhomes are energy-efficient structures in a single-family package. Shared walls between homes mean reducing exterior wall construction by 60% or more versus a typical single family detached home.
The architecture seeks to be a good neighbor by offering gabled rooflines and front porches found in many neighboring residences.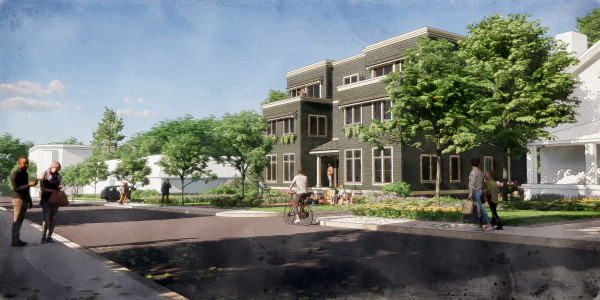 Furman Ave. Condominiums:
The Furman Ave Condominiums replace one duplex at 132 Furman with 10 condominium flats. While condos are not prevalent in North Asheville, we've heard that both first time home buyers and those looking to age in place would appreciate a smaller footprint home, on a single level, without the maintenance requirements of a single-family home. Here are some additional details:
Condos would average between 900 and 1,100 sf with one bedroom and two-bedroom layouts.
The building would feature an elevator as well as covered, garage parking for added convenience.
The smaller unit size would provide a lower entry price point to a neighborhood with many homes over $1,000,000.
The architecture seeks to be a good neighbor by drawing inspiration from the nearby Ansonia Apartments and Princess Anne hotel. In addition, the building features a third-story setback to respect adjacent 2.5 story residential homes.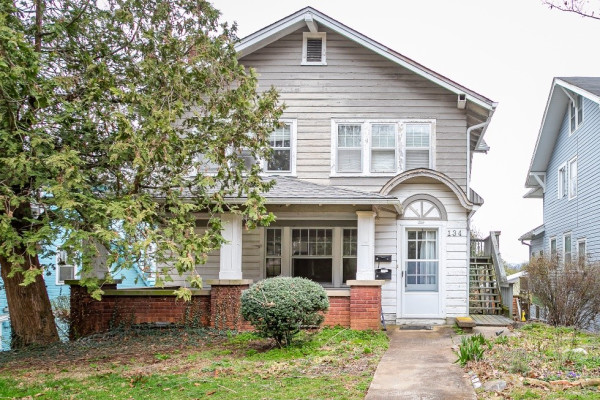 134 Furman Ave. Affordable Condominiums:
We have committed to affordability for homeownership and will work with the city of Asheville to make it happen. 134 Furman Ave. is preservation with a purpose, taking two apartments and turning them into two (and possibly three) affordable condominiums that will meet the city's affordability standards for families making 80% of AMI. Here are some additional details:
Condos would offer both two and three-bedroom floor plans, large enough to accommodate families.
We are exploring adding a third condo in what is a currently a generous walk-out basement.
The building will receive a full interior and exterior renovation prior to sale, allowing the new homeowners peace of mind.
134 Furman will provide a buffer between adjacent homeowners and the project.