Presentation & Notes from Meeting #1 of the Glendale Park Task Force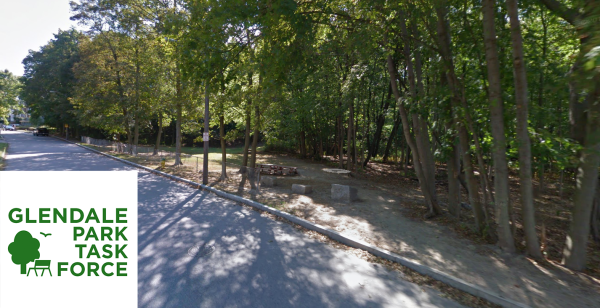 Thank you to everyone who was able to attend the first meeting of the Glendale Park Task Force on Tuesday, April 3rd. Unfortunately the weather didn't cooperate for a tour of the Park, but we had a productive and constructive meeting at the Neighborhood Club of Quincy.
Kaki Martin of Klopfer Martin Design Group facilitated the meeting, and everyone is welcome to view the presentation slides that she put together. Here are some high-level notes from the meeting, and we welcome further input in the comments section.
Feedback on Current Uses:
Space mostly used as a dog park (off leash)
Park empty most of the time
Picnic tables used by dog walkers
Sledding this winter!
Montessori uses it in good weather
Kids use it to play catch
Cut-through from Colonial Drive to Downtown/T
Feedback on Desired Uses:
Desire to prevent/deter risky behavior: keep park safe – lighting, clear sight lines
Keep it simple/low impact – 'park' in flatter space and wooded on slope
Path/trail system (ADA compliance?)
Block Party, Halloween Party
Bad experience with play space in the past and don't seem to want to revisit it
Encourage 'good' tree
Clear out scruffy understory – goats?
Concerns:
Kids drinking in the park, homeless sleeping in the park (worse historically)
Safety: parked cars in front of park
Views from Monroe Road
Trees falling on people
Dumping from Neighborhood Club on park site
Safe pedestrian connectivity from Colonial to Glendale (route to T)