Presentation & Notes from Meeting #2 of the Glendale Park Task Force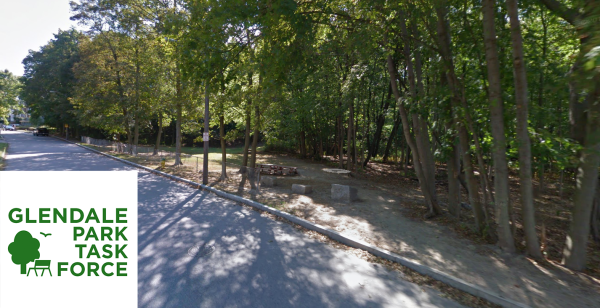 Thank you to everyone who was able to attend the 2nd meeting of the Glendale Park Task Force on Tuesday, April 17th. We had a smaller turnout due to school vacation week, and agreed to send out a reminder email in advance of Meeting #3.
Kaki Martin of Klopfer Martin Design Group facilitated the 2nd meeting, and everyone is welcome to view the presentation slides that she put together. Here are some high-level notes from the meeting, and we welcome further input in the comments section.
Feedback on Desired Uses:
Add sidewalk in front of park (along Glendale) to increase walkability and connect sidewalk to the north and south
Traffic slowing strategy on Glendale? Raised table? Crosswalk?
Discussion about light-touch options, keeping park the way it is
Some discussion about whether or not a playground would be appropriate. Comment that previous playground equipment was almost 30 years ago, so maybe things have changed.
Also acknowledgement that there is a playground on Whitwell and that it may not be desirable to make a destination space here.
Comment about avoiding redundancy of amenities in the neighborhood/other parks in Quincy
Discussion about how the wooded area is already a different sort of play space for children to explore. Natural playground at Dexter-Southfield School suggested as an example to investigate.
Concerns:
Reminders about meetings would be helpful
Lighting seen as important for safety. Preference for lower lights voiced– concern about blockage by snow raised.
Ideas/Feedback On Cleaner, Greener Quincy Options:
Goal of deciding activity for May 5th, to be finalized at next meeting on May 1st
Options of areas to focus on, which were discussed before: southeast corner along Glendale, alignment of a path to Colonial, or trash pickup throughout
Clean-up of the south end of wooded area near Physical Plant to be addressed by FoxRock