Project Passes Design Review!
Thank you to the Design Review Committee members who met virtually on June 3rd to review our project. The Committee was created to perform design review for all major works in the River District Design Review area, the Central Business District, and hotels outside of those areas.
Following presentations by Shannon Tuch, Principal Planner for the City of Asheville, and project architect Chris DeNome of The Beck Group, Committee members discussed aspects of the proposed design and whether it met River District Design guidelines as well as those of the Wilma Dykeman Riverway Master Plan.
We're pleased to let you know the Committee approved the project unanimously with the added conditions of including vegetation between the sidewalk and the proposed parking lot at 144 Riverside, reworking the building's open pass-through sections, and agreeing not to add any kind of artwork or district locational signage to the smokestack.
The next step for the project is the Planning and Zoning Commission on July 7. In the meantime, we are still seeking community input on a variety of items, including how to best utilize the old cotton mill building and smokestack. Remember you can give us your feedback here.
There is also now signage (pictured) on both sites offering pedestrians an opportunity to comment via text message.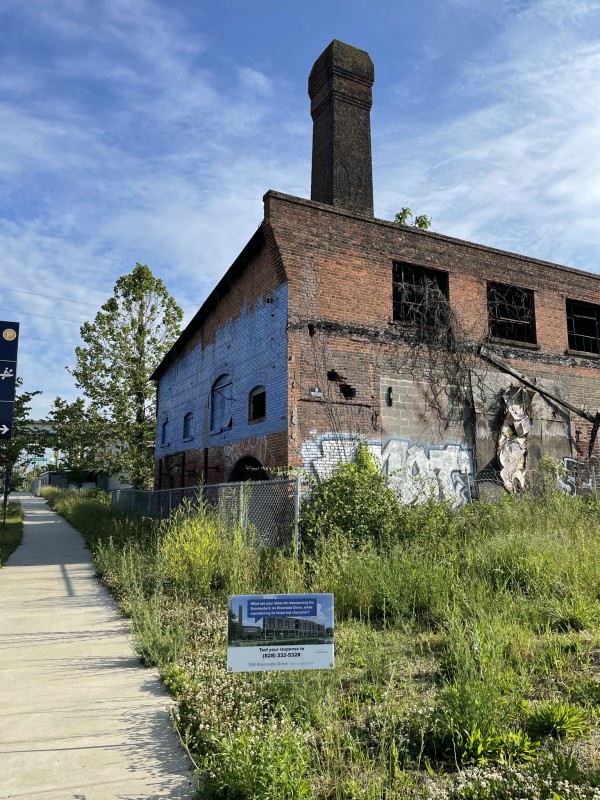 We are excited that we've received so much input on this project. The plans continue to evolve and we hope it will eventually become an integral part of the RAD.