New Project Plans for 1627 Mass Ave!
HRI is excited to share the initial design for its upcoming project at 1627 Mass Ave!
In partnership with ICON Architecture, HRI is proposing a two part affordable housing and historic adaptive reuse at 1627 Mass Ave: the historic Saunders mansion will be renovated into four apartments, and a new six story 25 unit building will be constructed on the rear of the lot, for a total of 29 new affordable rental apartments. In keeping with HRI and the City of Cambridge's goals to add new affordable family housing in the city, there is a focus on two- and three-bedroom units. Currently, we are proposing 10 one-bedroom, 12 two-bedroom, and 7 three-bedroom apartments for a total of 29 new affordable apartment homes.
1627 Mass Ave is a unique example of how developers, designers, and investment from the public and private sector in affordable housing can support sustainability in both new construction and the existing building stock. The Saunders House will meet the Enterprise Green Communities standards and upgrades to the existing building envelope will dramatically improve its performance and allow for the building to be all-electric. The new construction building will be Passive House Certified, with low-energy solutions for heating and cooling, so that it has a path to using net zero energy; it will offset a portion of its energy needs through solar PV on the roof. High-performance envelopes also mean higher comfort and better indoor air quality for the residents. Sustainable landscaping choices are planned, with native pollinator plants slated to be added around the mansion.
The yards around the mansion on the Mellen St and Mass Ave side will be maintained, keeping the mansion's position as a landmark. Two building exterior alterations are planned and have been discussed with Cambridge Historic Commission: the demolition of the rear addition, and the removal of the modern ramp from the front entry. Because of the removal of the ramp, the historic mansion will be accessible via an elevator located adjacent to the two-story connector joining the renovated building with the new construction.
As this is a transit-rich location, HRI will be providing transit incentives to new residents, as well as providing sheltered bicycle parking spaces in the basement of the building.
Below are renderings and elevations from ICON Architecture, portraying the renovated mansion and new building:
View from the corner of Massachusetts Ave and Mellen Street: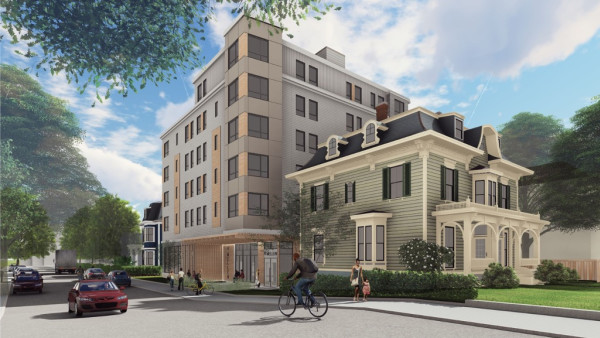 View from Mellen Street looking towards Massachusetts Ave: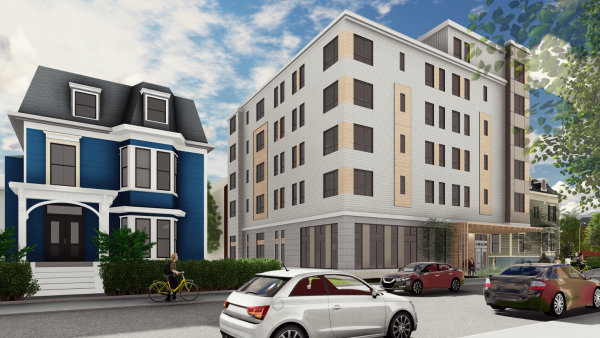 Elevations: