Planning Board Staff Recommends Approval of Brookfield's Plans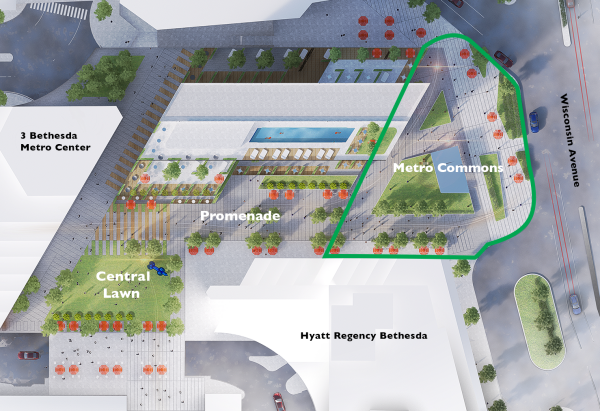 In advance of our upcoming hearing this Thursday, we wanted to let you know that the Planning Board staff recommended approval of our collective vision for Bethesda Metro Center. The report will be discussed by the Planning Board on Thursday morning. You can see their full report here.
Here are some excerpts from the staff report:
Metro Commons on Wisconsin Avenue
"The Metro Plaza is currently an underutilized series of terraced and isolated spaces that prevent full pedestrian access and use."
"The Metro Commons will create a new open space area fronting on Wisconsin Avenue that will total nearly 17,000 square feet, which will facilitate a variety of new uses benefiting the public. This space will be designed to provide a welcoming experience to persons entering Bethesda."
Total Open Space
"The Metro Commons open area creates an inviting entry to the wide Promenade and the Lawn area which, together, when included with the central open area provided by the Newlands Building, offer the public nearly an acre of connected public use space."
Pedestrian Experience
"The architectural design will energize the pedestrian environment of the surrounding public use spaces through its mix of day and evening uses and will become an iconic urban beacon within the city, up close along adjacent streets and from afar."
Building Location
"The location and proposed massing of the building will add to the symbolic center of Bethesda."
"The existing buildings and the location of the proposed building are specifically designed to frame and support a grand central civic gathering space as expressly called for in the Sector Plan."
Bus Bay Enhancement
"The project calls for massive improvements to the underground bus transfer center which will improve both transit and pedestrian circulation through the site, to the underground Red Line and to the streets above. It will also take full advantage of this prominent location atop the Bethesda Metro Center which will significantly contribute to the mixed-use, transit-oriented district and will further expand non-auto transit use in the region."
As always, please feel free to reach out to us at community@bethesdabrookfield.com with any questions or comments. You can also sign up to speak on July 19 in support of our plans by clicking on this link.