Detailed Topic Schedule for the Summit Workshops
Can't make it for the the full day workshops for the Central Peninsula Summit? Check out the detailed topic schedule for the event and drop in to discuss the issues that are most important to you.
Please rsvp to planningadmin@saintjohn.ca
Summit Kick Off Event - Thursday Evening, July 6
Come kick off the Summit event on Thursday evening and hear what the community has told us so far and review the project consultants "fresh eyes" analysis of the Central Peninsula. Presentations start at 6:30.
Stakeholder Workshop - Friday, July 7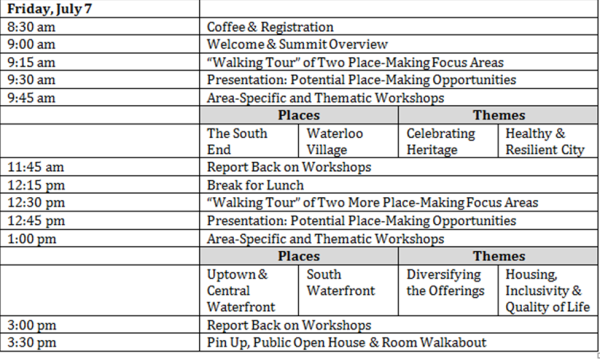 Public Workshop - Saturday, July 8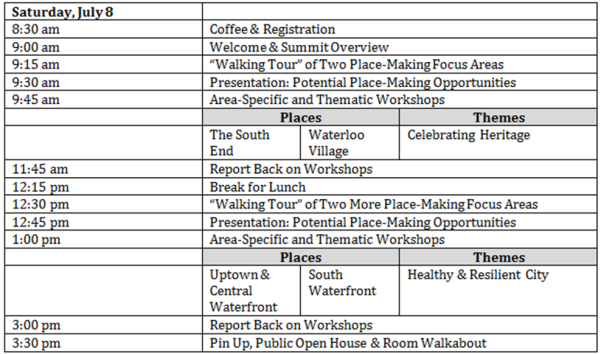 Theme Based Topics:
1. Celebrating Heritage
a. Bricks and mortar but also the stories of the peninsula
b. What does heritage mean?
c. Moving from a rigid approach to something sensitive to heritage but realistic and flexible
2. Diversifying the Offerings
a. Economic development
b. Arts, culture and entertainment/events
3. Housing, Inclusivity and Quality of Life
a. Housing affordability, quality, and suitability
b. Social and community service, amenities
c. Socio-economic issues (poverty, gentrification)
d. Family-friendliness
4. Healthy & Resilient Central Peninsula
a. Environmental sustainability (remediation, water quality, climate change, Marsh Creek)
b. Mobility and connections (transit, active transportation, infrastructure, Parking)