Innes Redevelopment Project Kicks Off Summer Outreach to Residents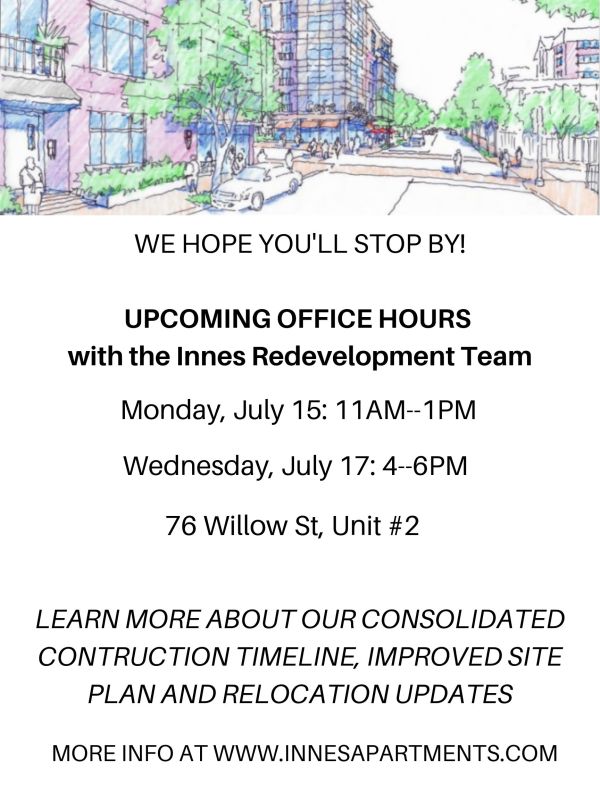 Innes Redevelopment Project Kicks Off Summer Outreach to Residents,
Agrees to New City Parking Restrictions, and Improves Site Plan to Incorporate Additional Parking and Improved Construction Timeline
Single Phase Construction Expected to Begin Fall 2020
NEWS RELEASE - July 10, 2019
The Innes Redevelopment team this week launched a summer outreach effort to Innes Residents including updates to the project site plan that includes additional parking, improved construction timelines to accommodate a more streamlined reconstruction of the Innes Redevelopment and improved construction timeline allowing for the rehousing of residents more than two years sooner. Other updates include signed agreements with the city restricting resident parking privileges for some new market rate residents and the announcement of summer office hours for ongoing resident engagement.
"The redevelopment of the Innes Apartments has always kept the interests and concerns of our residents front and center," said Al Ewing, Executive Director of the Chelsea Housing Authority. "We're pleased to share these project updates with residents and the broader community as we work collaboratively to ensure Innes residents get the new housing they deserve, while also providing for a transparent, seamless relocation process necessary to achieve this redevelopment."
As part of the improved plan, all residents will be relocated in a single phase rather than a two phase redevelopment structure. All residents will maintain their rights as public housing residents during relocation, with many being relocated to existing public housing units and some to private units - regardless of where they are placed, relocated Innes Residents will continue to enjoy all of their rights as public housing residents before, during and after relocation. Joseph J. Corcoran Company has employed Housing Opportunities Unlimited – an organization that specializes in providing direct assistance to residents impacted by renovation and unit rehabilitation projects in affordable and mixed income housing communities – to support the redevelopment team and Innes residents throughout the process. A formal meeting on July 9 provided a review of the updates to the plan and development timeline to residents.
"We continue to work diligently to ensure residents of Innes are fully informed of all updates on this exciting redevelopment project," said Melissa Booth, Co-President of the Innes Residents' Association. "We couldn't be more pleased with the improved construction timeline that allows for faster rehousing for all our families."
The Innes Redevelopment team is committed to continued on-site office hours throughout the summer so that residents may informally drop by and ask further questions. The project team will continue its tradition of an annual backpack giveaway for residents in late August and also hold two resident engagement events, including a youth engagement party and an employment fair. A comprehensive Resident Relocation Plan will also be developed and introduced as part of the continued outreach to Innes residents.
"We're proud to be part of a team that continues moving forward to ensure affordable housing for residents," said Joseph J. Corcoran, President and CEO of Joseph J. Corcoran Company. "We believe the redeveloped Innes Apartments will be a tremendous asset to the community and look forward to continued work with the Chelsea Housing Authority, Innes residents and our City, State partners through the summer."
The Innes redevelopment team partners also signed a Memorandum of Understanding (MOU) with the City of Chelsea to confirm commitments made to restrict on-street resident parking privileges for new, market-rate tenants of the Innes Redevelopment. In an effort to accommodate more parking on-site, the site plan has been improved to include a free-standing parking garage to accommodate parking for more vehicles.
This change to the building plans also streamlines the project's construction schedule to allow for more efficient reconstruction in a single phase providing for faster rehousing for current residents; reduces the total cost of construction to allow for more dollars to be allocated to resident services and relocation; and it shortens the construction timeline, while providing additional financial certainty for the overall project completion. The construction timeline will be approximately 18-24 months and is expected to begin in the Fall of 2020.