The Innovation Center @ Brentwood
Resource center for plans, research and studies:
Welcome to our concepts tab of the Brentwood Innovation Center website! Here you will find all of the complete Virtual Town Hall Presentations, a concept summary package of the four master plan concepts, and the various research and reports our team has produced. Please scroll down for short descriptions and links to the files for download.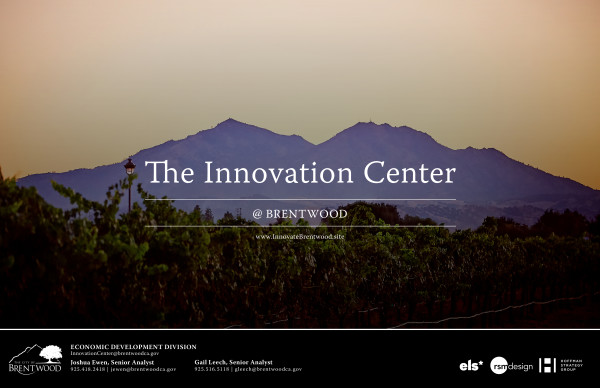 Marketing Outreach Brochure (Click this link to download)
Our team, working with City leadership developed a marketing brochure to help promote the benefits of building an employment center in the Brentwood community. We have also prepared a design appendix with summary information of some of the process and detail to help support the discussion with potential developers.
Design Appendix (Click this link to download)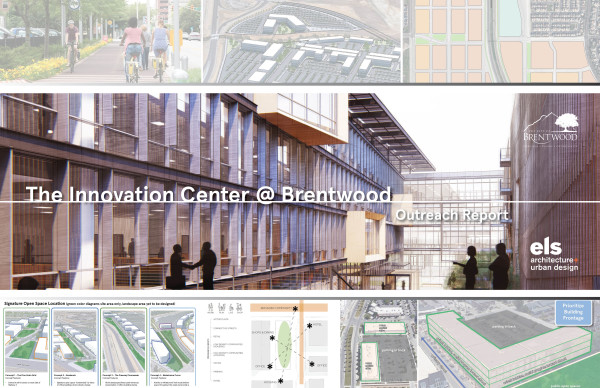 Outreach Summary (Click this link to download)
The design team has assembled a summary report of our outreach thus far in our project. This feedback has been and continues to be a guiding force in the development of our master plan options. Inside the report you will find comments from the two virtual town halls, the joint Planning Commission and City Council workshop, results of the surveys, landowner outreach, and interviews with four developers with experience in work place development.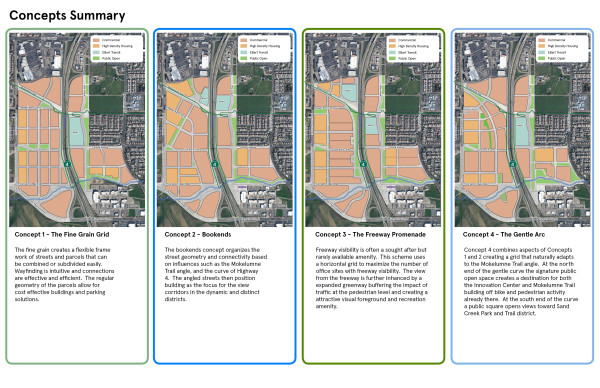 Four Initial Master Plan Concepts Summary (click this link!)
Presented in our Second Virtual Town Hall meeting, the four master plan concepts for the Innovation Center District test a variety of strategies to create a connected, amenity rich, pedestrian and bike friendly, workforce centric mixed-use district. Amenities such as plazas, parks, bike paths, trail systems, access to retail and housing are meant to create a best-in-class lifestyle oriented work center. Less obvious but equally important concepts such as development friendly block sizes, freeway exposure, ability to combine or divide parcels, parking concepts and transit access are also represented in different ways for each scheme. For the full Virtual Town Hall slide show click here: Virtual Town Hall #2 . For feedback on the schemes please visit our feedback tab or click here: Master Plan Concept Feedback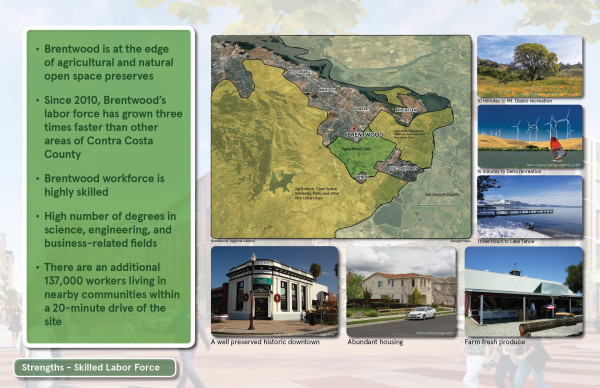 Brentwood Innovation Center SWOT Analysis (click this link!)
The Innovation Center SWOT (Strengths, Weaknesses, Opportunities and Threats) Analysis takes a close look at our projects physical, intellectual, economic, cultural, recreational, utility and zoning characteristics as it exists today. This analysis also considers how innovation's in technology and real estate could provide Brentwood an advantage as a regional location for satellite office expansion. This analysis was presented in the First Virtual Town Hall, and subsequently provided the background for decisions that would go one to influence the four master plan concepts presented at the Second Virtual Town Hall Meeting.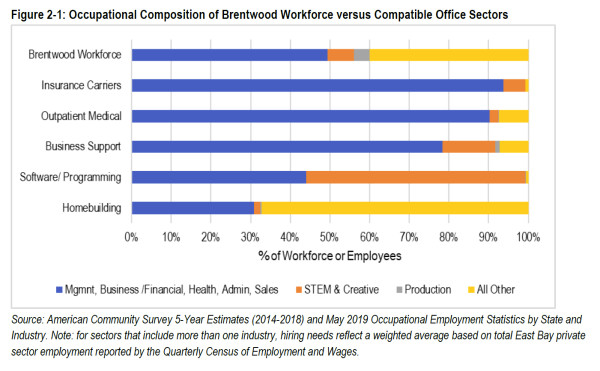 Brentwood Innovation Center Sector-Based Labor Force Analysis & Commercial Real Estate Market Assessment (click this link!)
Keyser Marston Associates prepared the following Sector-Based Labor Force Analysis and Commercial Real Estate Market Assessment to inform the master plan alternatives and the marketing strategy for the Innovation Center planning area. The Sector Based Labor Force Analysis identifies sectors as targets for business recruitment based on the skills of the local labor force, while the Commercial Real Estate Market Assessment estimates the range of planning area's potential share of demand for office, advanced industrial, and R&D uses.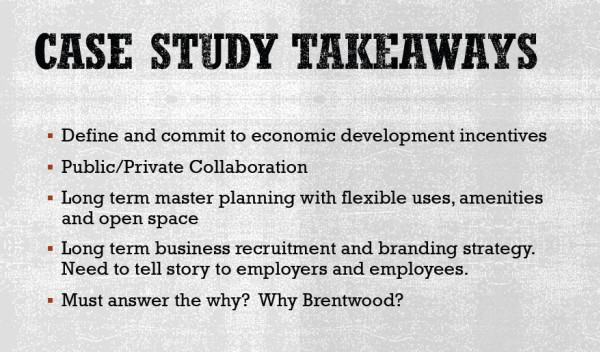 Brentwood Innovation Center Case Studies (click this link!)
Hoffman Strategy Group provided our team this case study report to give us a better understanding of what the competition is doing to attract employers to their communities. These case studies will go on to inform how we approach master planning, the identification of opportunity sites, and the marketing and outreach strategies the City will employ to attract development.