July Newsletter: Construction Schedule and Building Completion Dates!
Construction Schedule: Since the last newsletter distributed in February 2022, the CHA staff and our construction team, Consigli Construction, have finalized the construction schedule and start date for the modernization of Jefferson Park Federal. As we continue to relocate residents, the following schedule is based on when all residents have relocated off site. Construction is scheduled to start November 1, 2022 and conclude November 21, 2025. Buildings will be completed on a rolling basis and residents will be able to return on a rolling basis as well. Please see the completion dates per building and number of units at each building below.
Building 1: 11/21/2025 (34 units)
Building 2: 07/09/2025 (49 units)
Building 3: 03/07/2025 (50 units)
Building 4: 02/02/2025 (58 units)
Building 5: 07/16/2024 (48 units)
Building 6: 10/10/2024 (39 units)
Total Units: 278
Design Updates: The overall site design remains unchanged. The CHA still plans to build six new buildings with private courtyards and open space for a total of 278 deeply affordable units. In addition, the newly designed apartments will generally be the same size as the existing apartments at Jefferson Park. Like the existing apartments, some of the newly designed apartments will be slightly larger, and some will be slightly smaller.
Illustrations: Please see below the anticipated construction completion schedule for the revitalization of Jefferson Park Federal: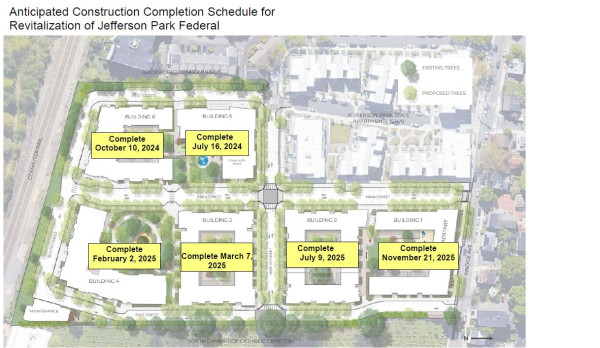 Please continue to visit this website for all modernization updates for Jefferson Park Federal. For any questions about this newsletter or the modernization project, please contact Joe Bednar at 617-401-4312 or jbednar@cambridge-housing.org and Mesale Gessesse at 617-520-6344 or mgessesse@cambridge-housing.org.