Updated Renderings - 7/21/22
In response to feedback we have heard, we have been working on modifications to the building layout, elevations and landscape plan for the redevelopment plans for Leefort Terrace. We have maintained the 124-unit count and courtyard design, but have done so while:
Condensing the building layout to be smaller and more efficient:
Reducing the overall footprint of the building by 3,20 4SF.
Shortening the East Wing by 44' and East Wing by 16', pulling both wings farther away from residents along Fort Ave.
Shifted the building westerly and farther away from the buffer tree line along the property boundary with Memorial Park.
Created a single footprint instead of two connected by the bridge. Replaced the bridge connecting East and West Wings of the budling with residential and community space at all levels. Maintained a recess in the building façade between the East and West Wings as the bridge had done previously.
Consolidated the basement garage level from two entries to one, with the ability to drive through the full parking level to access all spaces at once.
Removing an access road, thereby reducing impervious surface:
Removed the road directly behind the three abutters properties that had previously been needed to access the West Wing garage. Overall there is 5800 sq feet less impervious surface in the new plan compared with the existing Leefort Terrace.
Added more landscaped and impervious area in the area between the building and abutting properties where the access road to the garage had been.
Changing building siding materials to be more in line with a coastal building typology:
Introduced traditional clapboard style fiber cement boards as the primary exterior siding, with accents of a natural look wood-like material.
The color pallet now draws on the historic dark clapboard vernacular seen in much of historic Salem, balanced by lighter shades typical of seaside towns, with soft, muted, "washed" colors. The change in color occurs at regular intervals, creating a vertical rhythm more akin to the scale and proportions of a series of rowhouses.
Landscape Improvements:
Fully designed Publicly Accessible Open Space on the Collins Cove side of the building in collaboration with a group of volunteers from the community and Leefort residents.
Enhanced courtyard landscape design by providing additional resident amenity space in the courtyard section including enlarging the area and count of raised beds in the resident gardening area, focusing the seating and outdoor area around the community room and adding an area for grills.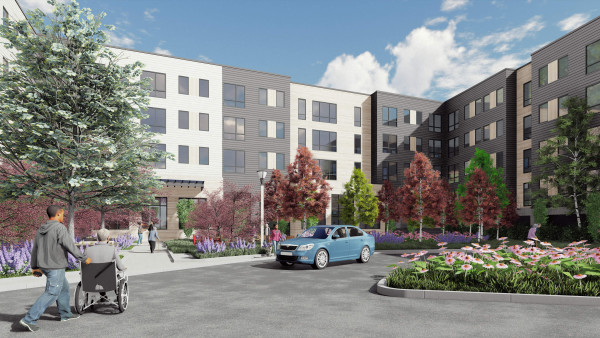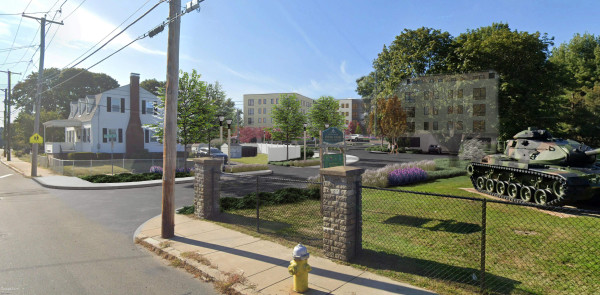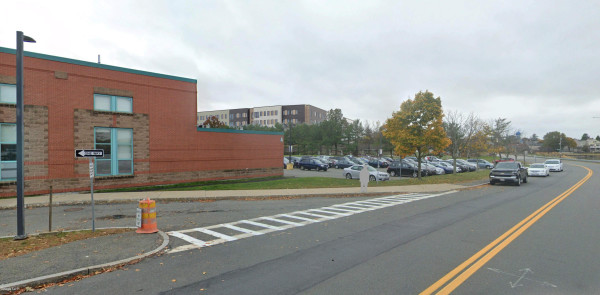 Leefort Terrace and Beacon Communities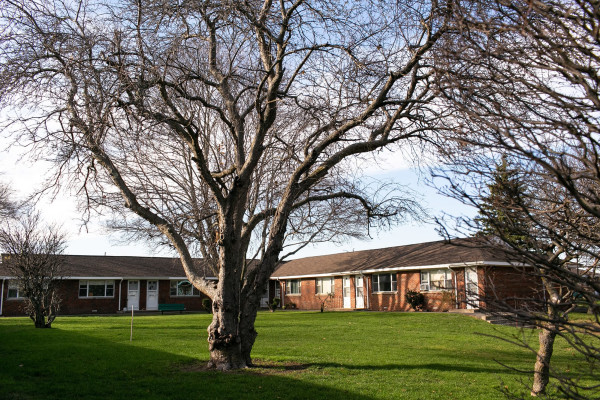 Exisiting Site
What's There Now
Leefort Terrace is a State Public Housing development located off Fort Avenue and Szetela Lane along Collins Cove. The development is owned and managed by the Salem Housing Authority (SHA). The garden style development was built in 1958 and consists of seven buildings and one additional building for a community room. The development includes 50 garden style one-bedroom subsidized units for elderly and disabled residents.
Why Redevelopment is the Only Option
The Leefort Terrace units are subsidized by DHCD through the state public housing operating subsidy formula, which has been insufficient to cover capital upgrades. All residential units are currently on the ground floor in a coastal flood plain and at significant and increasing risk of storm related flooding and sea level rise. There are currently no handicap accessible units in the development, and given the approximate size of only 371 SF each, they cannot be adapted. Residents report continual problems with flooding, outdated kitchen and bath facilities, climate control, and pest issues resulting from the obsolete design and construction methods. Built to standards more than six decades out of date and located in a floodplain that does not allow for residential housing units on the ground floor, renovation of Leefort Terrace is not an option.
What's in the Works
Salem Housing Authority has selected Beacon Communities LLC as its development partner to work together to plan for, design, permit, finance and manage the redevelopment. The Salem Housing Authority and Beacon Communities have pulled together a design and engineering team that has collected information about the condition and constraints of the Leefort Terrace site. Our intention is to create a regenerative community, one that works with natural systems of ecology and social organization to produce development in harmony with these systems and outcomes.
The 50 Leefort Terrace apartments fill a crucial need for the elderly and disabled households in Salem. The only way to save the housing at Leefort Terrace is to build a new podium style building with residential units well above the future flood plan, providing a new, safe, healthy and resilient home for existing and future Leefort Terrace residents.
There is also a clear need for more affordable housing in Salem, and the redevelopment of Leefort Terrace servces as an opportunity to take Housing Authority owned property and leverage it to provide even more much needed affordable housing in perpetuity, with a total of 124 100% affordable rental units being buit in the new development.
Additional details on the redevelopment plan include: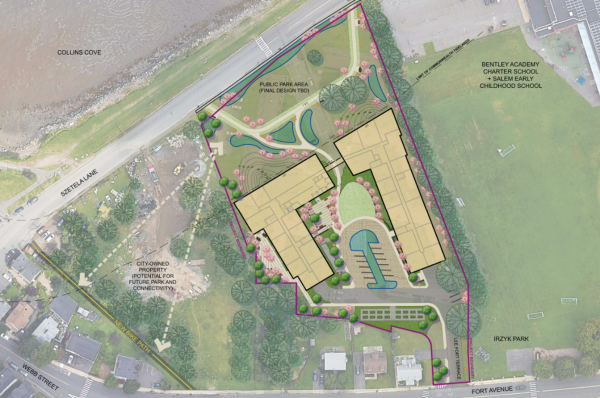 Proposed Leefort Terrace Site Plan as of February 15, 2022
Unit Count and Parking
124 units with 1- (66), 2 (34)- and 3 (24)-bedrooms. 100 parking spots.
Affordability- 100% affordable rental housing reserved for households with extremely low-, low-, and moderate-incomes.
Building Typology- The project includes the new construction of 124 units in two wings that embraces a sheltered, south-facing courtyard for the residents. The residences are elevated to ensure resilience, while accommodating the majority of the parking in the basement below the building. The basement parking level will be set at 10.5 feet above sea level (above the current flood map), and the lobby and first residential floor entrance at 13 feet above sea level (the 2070 sea level rise prediction). The first residential ground floor is at 21 feet above sea level.
A four-story façade to the north along Collins Cove faces a substantial new community open space that will celebrate and strategically accommodate the tidal nature of the site. To the south, both wings drop down to three stories, breaking down the mass and giving them a height more consistent with the abutting residences.
Program spaces of various scales including a community room, fitness center and wellness office are augmented by supportive services that connect and bolster the new Leefort Terrace community. In response to Leefort Terrace residents' feedack, one wing of the building will be a quieter section with 1-bedroom apartments and a few 2-bedrooms to accomodate the returning Leefort Terrace residents. The second wing will have a mix of 1-, 2- and 3-bedroom apartments. The entire development will be universally designed. Seven units will be fully handicap accessible ADA units and 3 additional units adapted for sensory impairments.
Sustainability and Climate Resiliency- Being climate resilient, regenerative, and environmentally positive is an important goal of the redevelopment. The building and site will be designed with as many carbon sequestrating materials as feasible, with the aim to minimize embodied carbon. The building will be all electric and designed and built to achieve Passive House (PHIUS+) certification and stive to be net zero or carbon neutral with the use of on-site solar energy generation. Material selection will also focus on healthier materials and indoor air quality.
Permitting- Chapter 40B Comp Permit, ConCom Approval, MEPA, Chapter 91 Waterways Approval will be needed. The Comp Permit process is expected to begin through the Zoning Board of Appeals in late May 2022. There will be plenty of opportunity for public input at these meetings.
Supporting Leefort Terrace Residents- All Leefort Residents will be temporarily relocated off site during construction and will have a right to return to Leefort after it has been rebuilt. Existing Leefort Resident rents will remain unchanged, being held at 30% of their income. SHA plans to accommodate relocation needs of current residents in units held vacant in the SHA portfolio. Current residents who cannot be accommodated by the SHA will be accommodated in other rental apartments in the community. Beacon will provide relocation assistance to all current Leefort residents, including but not limited to finding temporary replacement apartments acceptable to each resident, and covering costs (including moving costs) that exceed residents' current housing costs. Beacon will engage Housing Opportunities Unlimited (HOU) to oversee all aspects of the relocation process. All costs related to the relocation will be covered as a development expense.
Resident Services- Beacon's Community Engagement Department will provide a program of service enhancements at the new Leefort Terrace. The new building will include a large community room with a kitchen and area for computer learning, a fitness center and a wellness office with an exam room. A full time Resident Services Coordinator will oversee a plethora of activities and services to support residents to thrive in all areas of their lives. The services plan will be tailored to the individual and community needs of the Leefort resident population, which can be expected to include:
Connecting Residents to services, eligible benefits and local resources

based on their individual needs, insurance counseling, reasonable accommodations, mental health supports.

Computer Learning and Usage of Technology

; computer centers with desktops, tablets, Alexa shows & dots, emergency pendants.

On-site Wellness

– Healthcare Partners, Nursing & Medical Schools, Telehealth and Collaborations with Community Health Providers.

Mental Health Support
Community Building Events

to strengthen residents and external community wide relationships.

Enrichment Class-

Art Classes / Art Therapy / Memoir Writing / ESOL / Spanish / Cardio Fitness / Nutrition / Yoga / Financial Literacy / Low Vision Programming

Employment Workforce Development and Support
Academic Enrichment

and Support for Youth, Young Adults and Seniors
Past Meetings
Missed a meeting? Watch the recordings here! More recordings are coming soon.
Community Meeting - Elevations and Renderings
February 15, 2022
Community Meeting- Story of Place and Site Plan Review
December 16, 2021
Community Meeting- Site Feasibility and Listening Session
March 1, 2021