The Community Process
Working with Regenesis Group, the approach focuses first on developing a Story of Place, seeking to deepen our understanding of the many social and ecological interrelationships that make Leefort Terrace, its immediate surroundings, and Salem unique. We are aiming to harmonize with these natural and social systems as we move from our understanding of place to inform the project. As part of that process we had kitchen table conversations with well over 50 stakeholders who shared their perspectives with us on what makes Salem unique and what might be missing. We also held larger virtual community meetings in March 2021, December 2021 and February 2022. Our team also presented at the Salem Sustainability, Energy and Resiliency Committee's Public Meeting in March 2021.
From the Story of Place we created the following Design Principles that we used to inform the site plan and building design:
Design structures and nature-based techniques that

protect life while allowing the natural exchanges

that enrich it.

This project is an opportunity to appreciate,

celebrate, and integrate the resources of this place

– including the residents and neighborhood.

Use this project to

engage, reinforce, and make-real the motivating visions of Salem

as a healthy living system.
From the Story of Place and Principles the following concept for the redevelopment is emerging: "Fostering the resiliency and regeneration of Leefort Terrace, Salem Neck and Salem." From the concept we have established a series of nested metrics for accomplishing this concept that demonstrate how we will apply it to Leefort Terrace, while also engaging the community and city around the public space associated with Leefort Terrace and the underutilized adjacent parcels we expect that the city will work to turn into a passive public park, and aspiring to inspire the community to apply the principles city wide to enhance the social and natural systems at play in Salem.
We will continue on with regular community conversations, revising and adding the Story of Place as new information and perspectives are revealed. We have already incorporated numerous feedback from residents, abutters and community members including stepping down the building from 4 to 3 stories when approaching the abutters, creation of a quieter wing for returning Leefort elderly and disabled residents, strong sustainability and resiliency techniques and maintaining ample open space. We will continue to incorporate feedback into our design when appropriate and feasible. We will also be forming a core working group to help in planning of the public open space that we will construct at the Collins Cove side.
Story of Place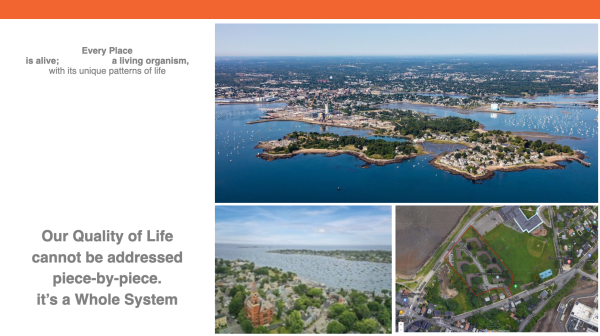 Leefort Terrace Open Space Planning Group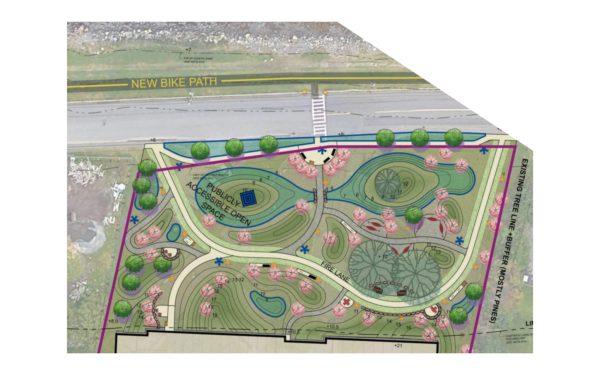 A community group made up of Leefort Terrace residents, Greater Salem community members, and project stakeholders, worked together to design the public ally accessible open space along the Collins Cove side of the Leefort Terrace redevelopment. The process and resulting plan strives to reflect the unique and interrelated environmental, housing and open space needs of the community.
Community Spotlight
Amy V
Salem Resident
As a resident of Salem and a neighbor of the Leefort Terrace public housing project for the last 16 years, Amy VanDoren has been waiting a long time for change to come.
That's why VanDoren has been vocal in her support for the Salem Housing Authority's (SHA) project with Beacon Communities to reimagine the site, which has fallen into disrepair and is in need of redevelopment, creating 124 eco-friendly, affordable apartments, including replacement units for the 50 elderly and disabled households currently living at Leefort Terrace. "The real issue is that the elderly housing there now is not a viable option for them or for anyone, and there is no available option to fix it," she says.
When project planners initially reached out to the community, residents shared a number of concerns, including the need for greater affordability and questions about density, alternate sites, transportation, and environmental issues. As a result, SHA and Beacon have sought to deepen engagement with Salem residents and take a collaborative approach to the project planning and implementation though one-on-one and small group meetings, larger community meetings and gathering feedback via the coUrbanize platform.
For VanDoren, that means addressing shared concerns about the size and height of the building, and how it will be integrated into the surrounding community. The existing building is at ground level, and she and others have expressed that the multi-level structure in the current plans will need to be thoughtfully planned to continue to encourage neighborhood engagement for its residents. However, she also sees the development as an opportunity to tie the neighborhood together with surrounding communities for the first time.
"This area is very disjointed," she says. "There are people who enjoy its beauty and being outdoors here, and there are also the people that live and work here. But there isn't anything that joins us all together…The more physically joined together this project feels, the better it will create that sense of community and bring in everyone from the edges."