Announcing Updated Plans and Renderings and Next Weeks ZBA Meeting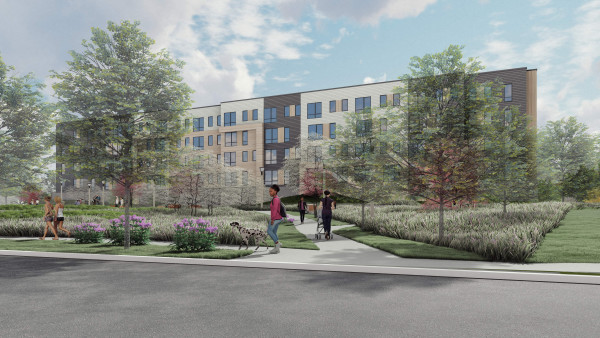 We are excited to share updated plans and renderings for the redevelopment of Leefort Terrace. In response to feedback we have heard, our team has been working on modifications to the building layout, elevations and landscape design. We have maintained the 124-unit count and courtyard design, but have done so while:
Condensing the overall building size, resulting in reducing the overall footprint by 3240 sq. ft.
Shortening the East Wing by 44' and West Wing by 16', pulling both wings farther away from your home and the other 2 homes on Fort Ave.
Converting the bridge into useable amenity and residential space.
Removing the access road behind the three abutting homes and including that area in the landscaped portion by making the garage access only through East Wing.
Modifying the design of the elevations and siding to reflect a more New England coastal feel.
Improving upon the landscape design of the residential courtyard to provide additional resident amenities.
Enhancing the plans for the Publicly Accessible Open Space on the Collins Cove side in coordination with a group of community volunteers and Leefort residents who responded to our open invitations to participate.
You can see these updated plans and learn more about them here.
We are announcing these plans to the public today ahead of the upcoming Salem Zoning Board of Appeals (ZBA) meeting which will hosted virtually next Wednesday.
Meeting Information:
Date: July 27, 2022 at 6:30 PM
Link: https://us02web.zoom.us/j/84670233977?pwd=JUoTNfC4bVJpP9gSgqMxuJfZhurgxs.1
Zoom Meeting ID: 846 7023 3977
Password: 917680
Additional information and instructions can be found here - www.salemma.gov/zoning-board-appeals