Announcing the Final Transit-Oriented Development Plan
Transit-Oriented Development Plan for the South End of Downtown Manchester Now Complete
After a year-long planning effort to envision an ambitious revitalization of the South End of Elm Street, the final Transit-Oriented Development Plan is now complete. You can DOWNLOAD THE PLAN HERE.
The TOD plan creates a framework for new places to live, work, and play with convenient options to walk, bike, or take transit to many daily destinations. The plan envisions $588 million of real estate development in the form of new condos, apartments, offices, shops, parks, and plazas all within a 5 to 10-minute walk of a new shuttle service, new bus hub, and a future commuter rail station in the South End of Downtown.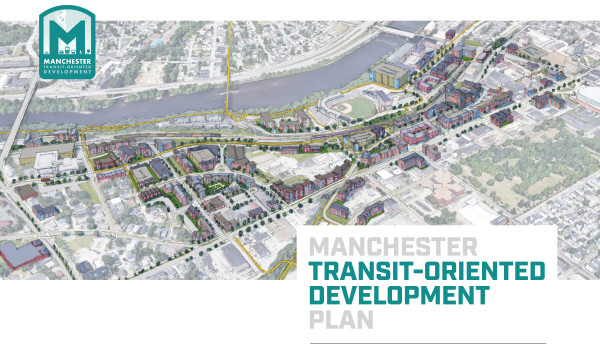 The resulting plan provides a framework for over $100 million of infrastructure investment in new streets and paths designed to facilitate walking and biking in a compact, attractive, and well-signed new development. The investments in infrastructure are anticipated to leverage private dollars at a ratio of four private dollars of real estate investment for every dollar of infrastructure investment. The project is designed in phases to increase the feasibility of implementation. At full buildout, the project programs has the potential to generate $14 million dollars in new property tax revenue for the City of Manchester on an annual basis.
A Plan for Everybody
The plan envisions a livable community for all ages and would provide inhabitants an improved quality of life through access to jobs, shopping, healthcare, parks, and entertainment. By including everybody in this planning effort, a growing number of senior citizens, young adults, & people who are seeking transit-oriented lifestyle options have a plan to realize new choices within the City.
The City of Manchester, Manchester Transit Authority, business owners, property owners, and citizens came together to develop the TOD Plan announced today. The Plan create an achievable vision for the South End of Downtown Manchester. We invite you to read the TRANSIT-ORIENTED DEVELOPMENT PLAN, and attend the upcoming presentation to the City of Manchester's Board of Mayor and Alderman during the October Administrative Committee meeting. The design team will also be presenting the plan during public meeting of the MANCHESTER DEVELOPMENT CORPORATION at 8:30am on Friday, October 9th and to the MANCHESTER TRANSIT AUTHORITY BOARD OF DIRECTORS at 5:30pm on Tuesday, October 27th.
Please note, although PROJECT WEBSITE content creation has come to a close. The project will remain in place in the links above as an archive of the planning process, engagement, and products created throughout the project. To learn more about the planning process and discover what others have said about Manchester's Transit-Oriented Development plan, feel free to visit the PROJECT WEBSITE at any point in the future.
Reach Out
For questions, comments, or more information about the Transit-Oriented Development Plan, please contact James Vayo, Project Manager for the Southern New Hampshire Planning Commission by email at jvayo@snhpc.org or by phone at (603) 669-4664.