The Design Team is Collecting Data & Making Maps for January!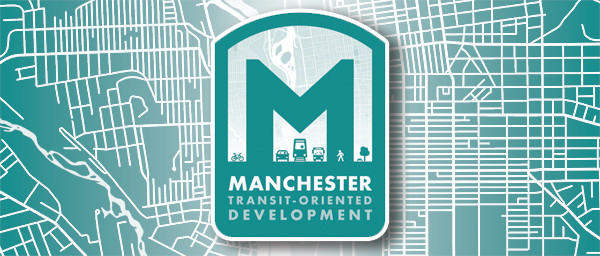 Hello Once Again Project Followers, The project page has been live for about three months and there has been an outpouring of interest and input from you, the community members, on the INTERACTIVE MAP. There are now over 150 comments and 800 unique visitors to the project website.
Thank you for engaging in the planning process, The Design Team hitting milestones and preparing for our upcoming charrette!
We are excited to share with you that the Manchester Transit-Oriented Development Plan reached another milestone just before Thanksgiving. The design team presenting their existing conditions analysis during technical committee meeting #2. During the meeting, the design team provided committee members with new information across topics including transportation systems, land use, market economics, and development opportunities.
Some highlights from the presentation include bike & pedestrian crash data, road diet options, asset inventory, opportunities for corridor development, and placemaking options. Committee members were also asked for feedback on the on the three options provided for siting of a train station. Selecting a site for the future train station will be an important step in anchoring development and infrastructure improvements. During our January Charrette there will be lots of discussion about these options!
Documents: TECHNICAL COMMITTEE MEETING #2 PRESENTATION SLIDES
Join us for the Charrette
We invite you to join us in late January as we come together to plan for a better future for the South End of Downtown Manchester. Please plan to attend this charrette event where new ideas and concepts for development will be posed to participants. The charrette will include a series of activities that will provide participants with the opportunity to steer the design process and help select the best solutions for development of the study area.
Link to Event: REPLY TO THE FACEBOOK EVENT LINKED HERE
Thank you for all your interest in this project, we look forward to seeing you in January to create this development plan!