Project Implementation Memo Published
Hello Manchester TOD friends,
We are excited to announce that the design team has published an IMPLEMENTATION MEMO on the INFO tab on the interactive project website (courb.co/Manchester). The design team has documented the following milestones within the implementation memo:
Project phasing for real estate, infrastructure, and transit investments
Analysis of the cost-benefit of investment at each project phase
Identification of financial vehicles for proposed infrastructure
Guidelines for land use and zoning changes to aid implementation
The transit-oriented development plan program is an ambitious vision but a vision grounded in a realistic, market-based approach to investment. Below is a summary of the plan's program impact across several metrics, including the total value of development and the number of new residential units in the study area. The memo content is in-depth so please give the work of the design team a deeper dive by reading the full IMPLEMENTATION MEMO.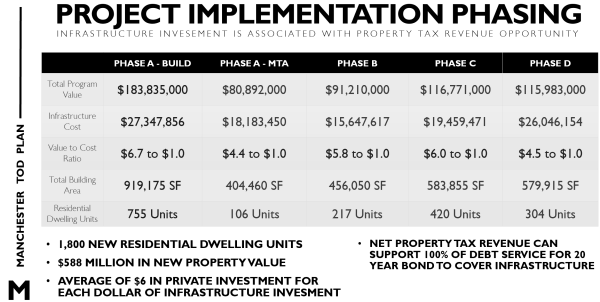 The next step in the TOD planning process is publishing the draft TOD plan as well as presentation of the draft plan by the design team. The design team, led by Goody Glancy, will present the draft plan in multiple digital public forums.
Here is a quick outline of the anticipated next steps.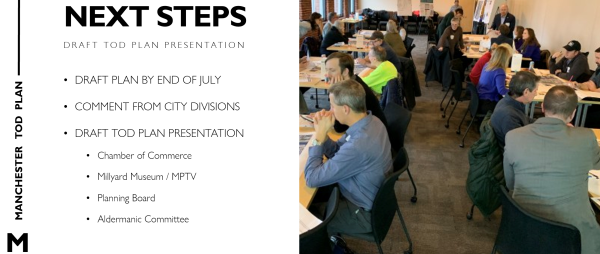 Your participation throughout the planning process has been critical to creating a plan that will produce successful outcomes. Please continue to share your feedback and questions in the COMMENTS SECTION of the interactive project page. Once again, thank you for all of your participation.
We look forward to scheduling the public forums in August. Please keep an eye out for an email from us once the draft plan is live and dates for the public forums have been set. We look forward to all your great feedback on the TOD plan when it is published. For now, please give the IMPLEMENTATION MEMO a read!
Regards,
James Vayo, AICP - TOD Project Manager