Accessible Streets Studio | Neighborhood Visit Highlights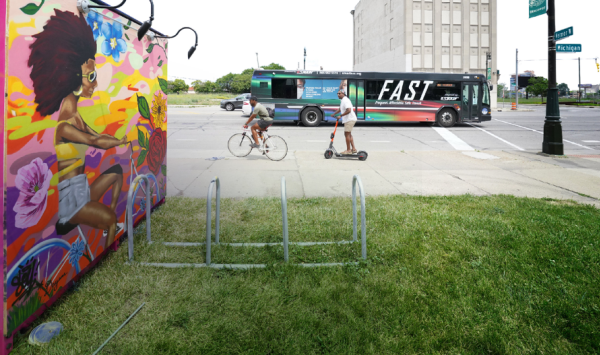 Michigan Central and our partner Newlab, a community of experts and innovators applying transformative technology to solve the world's biggest challenges, have been hard at work this summer exploring unique solutions to the city's mobility challenges through the launch of the first-ever Accessible Streets Studio cohort.
In early August, teams from the Accessible Streets Studio joined us for lunch at Bobcat Bonnie's, and we took a tour of the neighborhoods surrounding Michigan Central Station to discuss the potential deployment of transformative technology and services in the area.
One Studio Participant, Kiwibot, introduced its autonomous delivery bot, and local business owners watched it roam the sidewalks of Corktown and reflected on how it could support food delivery in the neighborhood. We also had a great meeting with the Corktown Business Association, where members learned how the bot works and what they could expect if they participate in Kiwibot's pilot program.
Meanwhile, other cohort participants, Sway and KUHMUTE, paid a visit to Mexicantown's Honey Bee Market, a potential site for their EV car-share program and electric micro-mobility charging hub.
We also introduced the Studio and the cohort's seven pilot projects to the Southwest Detroit Business Association, where there was great excitement around the proposed activity, specifically with Soofa, Solartonic and Sway all companies that SDBA feels could make a positive impact on Southwest.
This is just a snapshot of how the Studio is facilitating the entry of uniquely creative companies into local neighborhoods, and we're excited to continue creating space for community leaders, business owners and residents to interact with the technology and services that are rolling out this summer and fall.
The Studio and Newlab remain committed to making everyday life easier to navigate and creating unique opportunities for Detroiters by delivering innovative technologies, products and services to address transportation and accessibility challenges.
For more info about the Accessible Streets Studio and its cohort, click here. And if you'd like to help us find solutions to the mobility challenges in the neighborhoods around Michigan Central, click here, and together we can create a more connected Detroit. Share your thoughts in the Feedback tab on how these pilots could benefit the neighborhood!