JOIN US TONIGHT! Advancing Community Businesses | Virtual Info Session
Tuesday June 28, 6:00 – 7:00pm
Join Build Institute and ProsperUs to learn about Advancing Community Businesses, a new program designed to assist micro-business owners with customized training in digital skills, web development, capital education, and direct access to grants and business loans.
Participants will also receive one-on-one coaching with proven business mentors to identify and accelerate their top business priorities. If your business is located with the neighborhood focus area surrounding Michigan Central and meets our application criteria, you are eligible to apply.
Please visit Advancing Community Businesses - Michigan Central for details
Application Deadline: Thursday June 30, 2022 at 11:59pm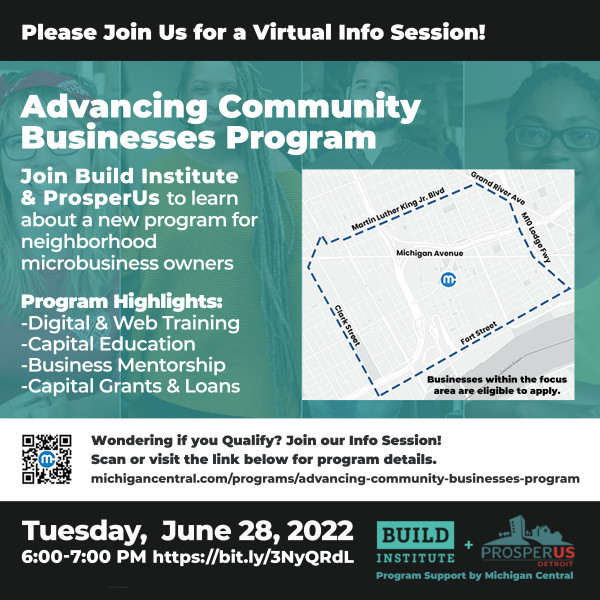 Program Features:
Digital + Web Training.
Grow your brand, online business presence and
knowledge of e-commerce platforms
Capital Education.
Increase your knowledge of lending products,
stages of business, and how to best manage capital
Business Mentorship.
Work with a mentor to enhance your operations,
management, finance, digital practices & more
Capital Grants & Loans.
Selected participants may apply for grants & loans
Application Deadline: Thursday June 30, 2022 at 11:59pm