Construction Update:  November 2016
Construction will continue for the Kendall Square at MIT project this month with the installation of new water piping on Carleton and Hayward Streets and continued installations of utilities on Amherst Street.
A few quick notes for the public:
* We will be converting certain metered parking spaces to RPP spaces on Ames Street, across the street from the Media Lab, to replace RPP spaces temporarily removed on Amherst Street to accommodate the construction zones.
* The remaining portion of the Hayward Lot will close in early November, and all of the Medical parking spaces will be re-located to the new Medical parking lot located across the street from E23.
* One-way traffic on Carleton and Hayward Streets will be established as work zones begin to be erected.
* Temporary utility poles will be erected on Carleton and Wadsworth Street to accommodate the transition of overhead to underground electrical and low-voltage lines, but these poles will not impede pedestrian access on those sidewalks.
And more details, if you're interested:
There will be work in the intersections of Carleton/Amherst and Hayward/Amherst Streets over the next two weeks as we excavate and install water piping at those intersections. During those work periods, traffic will be carefully routed down Amherst Street with the use of police details to go around the mid-street work zones.
By mid-November, we also plan to be continuing in Amherst Street with further utilities installations that started in September. Like the first work zone, this will be on the south side of Amherst Street and will work its way east toward Wadsworth Street.
If you have any questions regarding the construction work on site, please contact Alison Crowley at: acrowley@mitimco.mit.edu.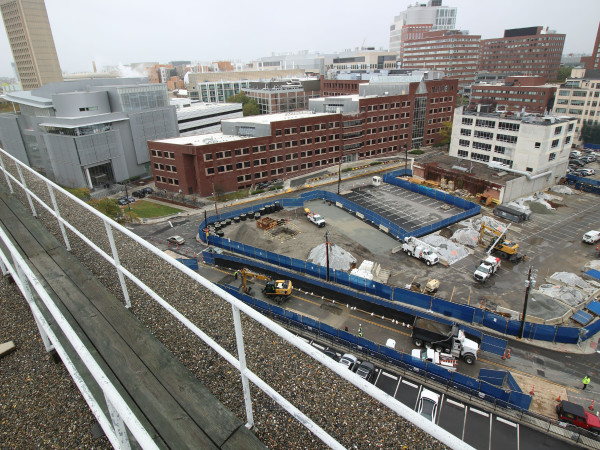 Work zone image captured on 10/28/16 at 11:30am.