Construction Update: December 2016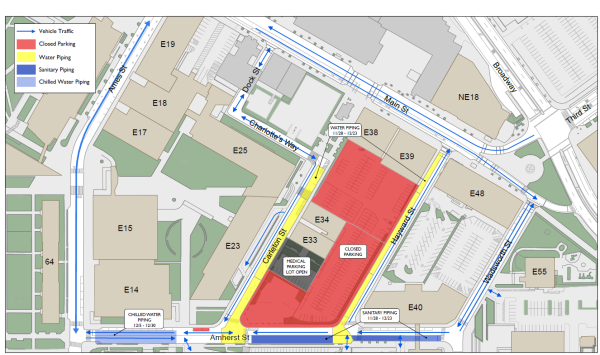 To download the construction map, please click here.
Construction in Kendall Square will take place on Amherst, Carleton, and Wadsworth Streets through December.
The scope of work includes:
Installation of new water lines in Carleton & Hayward Street
Installation of chilled water lines in Amherst Street, between Ames St & Carleton St
Installation of new sanitary lines in Amherst St, between Carleton St & Wadsworth St
Traffic patterns put in place include the following:
North-to-south one-way traffic on Carleton St (from Main St towards Amherst St)
East-to-west one-way traffic on Amherst St (from Sloan towards the Media Lab)
South-to-north one-way traffic on Hayward St (from Amherst St towards Main St)
At least one sidewalk will remain open to pedestrians on all streets through the duration of this work. Work hours will commence from 7am - 6pm daily, although most days work on-site is complete by 3pm.
The new MIT medical parking lot is open across from E23 on Carleton Street, and the entire Hayward Lot parking lot has been closed. Handicap ramps will be installed in front of E23 to direct handicap pedestrians to the medical parking lot.
Thank you as always for your patience with construction, and please reach out if you have any questions or concerns!