Construction Update: January 1-15, 2017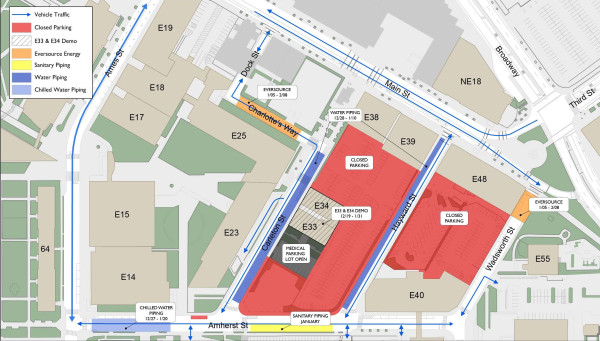 Happy New Year! Work continues on Amherst, Carleton, and Hayward Streets in January. To download the construction map, please click here.
As work increases both in the street and for the start of the Kendall Garage, we will begin to issue construction updates twice per month to keep the public informed of the ongoing work. This scope covers work to expect over the next two weeks.
The scope of work includes:
Chilled water pipe installation on Amherst St in front of Senior House (E2)
Sanitary pipe installation on Amherst St in front of 100 Memorial Drive apartments
Water pipe installation on Carleton St in front of MIT Medical (E23)
Water pipe installation on Hayward St next to Muckley Building (E40)
Eversource work in Charlotte's Way (Deacon St) next to the Kendall Hotel and Eversource work in Wadsworth St next to Eastgate
Street closures include the following:
Wadsworth St from Main St to the entrance of the Eastgate/Sloan parking lot will be closed while Eversource digs a trench for a new electrical ductbank. Access to the parking lot will be maintained from the south, via Memorial Drive. Please see Update #8 for more details.
Two way traffic will be maintained on all streets where possible, via traffic flagmen to direct traffic.
Parking lot and on-street parking impacts include the following:
The parking lot behind 290 Main St & 292 Main St (E38 & E39) remain closed.
The Hayward Annex Lot and the lot behind 238 Main St (E48) are closed as of 1/4/17.
Wadsworth St on-street parking is removed during construction of the Eversource ductbank.
Amherst St on-street parking is removed during construction of the chilled water and sanitary pipes from Senior House to 100 Memorial Drive.
RPP-only parking has been added to Ames Street to accommodate the loss of on-street parking for residents in the area.
Please feel free to reach out to us here or at kendallsquare@mit.edu with any further questions. Thank you!