Pedestrian and Vehicular Route Changes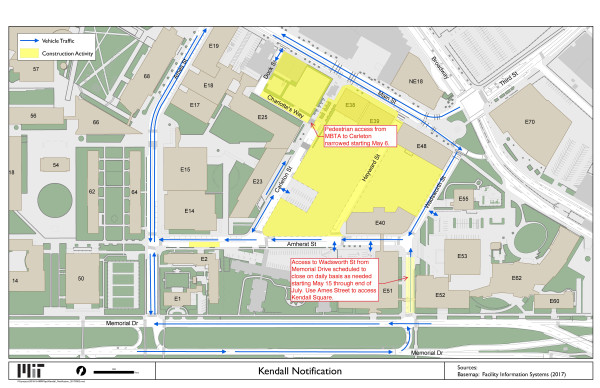 Please note the following activities and access changes in the Kendall Square area at the MBTA Kendall Square Station and on Wadsworth Street related to Kendall Square construction activities. Construction hours are scheduled for 7AM – 6PM weekdays with some Saturday work from 9AM – 6PM as needed.
MBTA Station Pedestrian Access from Carleton Street
On Saturday, May 6, a portion of the pedestrian plaza connecting Carleton Street to the inbound Kendall Square MBTA Station on Main Street is scheduled to close to allow construction of an underground garage in this area. An ADA-accessible 10-foot wide pedestrian pathway between the MBTA station and Carleton Street will remain open for the next few weeks. Access to the station will also remain open and accessible on the Main Street side of the station.
In the coming weeks the plaza in this location may close to pedestrian traffic. We will send updated notifications when the work is confirmed and scheduled. At that time pedestrians will be guided to seek alternate paths to and from the station using Ames Street or Wadsworth Street. Access to the MBTA station will remain available throughout this work.
View the attached map showing the narrowed pedestrian walkway between the MBTA station and Carleton Street. Carleton Street will remain open to vehicular traffic from Amherst Street to the Medical Parking Lot.
Wadsworth Street temporary closure at Memorial Drive
On Tuesday, May 9, the block of Wadsworth Street between Amherst Street and Memorial Drive (between Buildings E51 and E52) is scheduled to be closed temporarily to vehicular traffic. Starting Monday, May 15 the same area will begin daily closures that are expected to continue through the end of July. During this period access to Wadsworth from Memorial will be closed as needed on a daily basis. Drivers on Memorial Drive should access the Kendall Square area via Ames Street. Please see the attached map showing the driving pattern for the area.
Cambridge Trust Bank opens in new location May 15
On Monday, May 15, the Cambridge Trust Bank is scheduled to open at their new location at 415 Main Street, next to Sebastians. The current location at 326 Main Street is scheduled to close on Friday, May 12 and plans are underway to demolish the existing building later this month.
Thank you for your patience during the Kendall Square construction work. These changes are making way for new buildings and the creation of green spaces just south of Main Street in the center of Kendall Square. The current site of the Cambridge Trust Bank will become the future home of the MIT Museum and MIT Press bookstore, along with other offices and groups, providing a welcoming entry when folks emerge from the MBTA station into Kendall Square. A new below-grade garage will provide parking for daily users and visitors with dedicated spaces for electric and low-emitting vehicles. Learn more about the project plans in this news article.