Construction Update: May 19 - 29, 2017
Wadsworth Street 24/7 closure from Amherst to Memorial Drive
On Wednesday May 24th, Wadsworth Street between Amherst Street and Memorial Drive (between Buildings E51 and E52) will be closed 24 hours a day for approximately 3 months to vehicular traffic. The Project will be installing new utilities and will need to utilize large equipment in order to perform this work. Vehicles on Memorial Drive should access the Kendall Square area via Ames Street. Please see the map below to see the driving pattern for the area. The street will not be reopened at the end of each day or on weekends.
Construction Update May 22nd through Saturday June 3rd
Street and Sidewalk Impacts:
Carleton Street – Storm Drain work will continue through the week of May 22nd. This will require Carlton St to be closed to all traffic except for the Medical Building Parking Lot.
Amherst Street - Forced Sanitary installation will continue on the south (100 Memorial Dr.) side of the street. Pedestrian detours will be in place as the work progresses down the street. Eversource will continue to install gas services towards Ames St beyond Carlton St.
Wadsworth Street – In addition to the work stated above, electrical work will continue which will limit traffic North to South only (Main to Amherst).
Dock Street – Utility work will be performed in order to prepare for the demolition of the Cambridge Trust Building.
MBTA Plaza – The area has been narrowed to allow the project to prepare for new construction zones.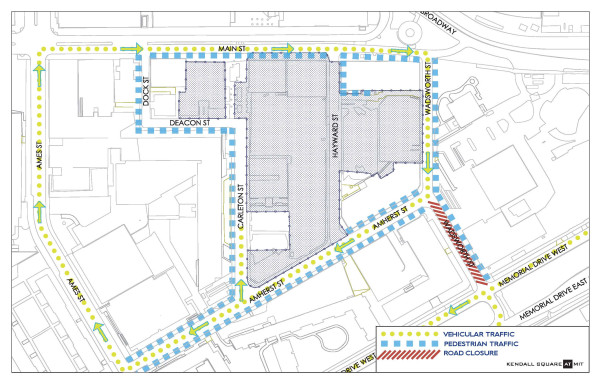 General Construction Update:
Work continues on the Kendall Garage within the closed parking lots behind 292 Main (E38), 290 Main (E39), and 238 Main (E48). This includes -
Slurry Wall (Support of the Excavation) installation.
Daily deliveries of steel and concrete.
Daily trucking to remove material from the site.
Steel will begin to be installed in E38 / E39.
Scaffolding will be installed on the face of E38 / E39 buildings.
Site work will begin on site 5 (behind Cambridge Trust).
Police details will be utilized throughout the project area to assist with pedestrian and vehicular traffic.