Event Series coming to Newton Library in September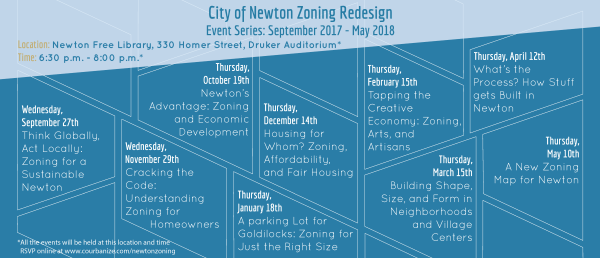 Thank you for all your participation in Newton's Zoning Redesign Project. We have received a great deal of comments on what people value about Newton's built form and land uses, and some great ideas on how Newton can evolve over time with a new zoning ordinance.
Your comments plus extensive data analysis helped shape the draft Pattern Book, which was released in May 2017. The Pattern Book serves as the primary analysis of the city's built patterns and as the basic framework atop which a new, context-based zoning ordinance will take shape.
Now the project is moving into its next phase - a series of community conversations about various zoning topics. Each event will be an opportunity to discuss desired outcomes for a different topic in order to develop the zoning mechanics to achieve those outcomes.
Save the dates and RSVP! You'll also get an event calendar in your upcoming City sewer and water bill. We look forward to your participation in these discussions.