Project Facts
What is the Patuxent Commons concept?
Patuxent Commons is an intentional, supportive community for people of all ages, abilities, and incomes planned for Hickory Ridge. It has four primary objectives:
Address housing instability faced by low-income adults with disabilities, older adults, and younger adults/families
Enhance social connectedness through building of relationships and community engagement, and reciprocal sharing of social support by neighbors
Use housing as a springboard to maximize individual potential and facilitate community integration for people of all ages, abilities and incomes
Pioneer a viable, innovative solution to the growing housing crisis facing adults with disabilities that can be adapted elsewhere in Maryland and serve as a model for similar housing developments throughout the United States.
Who is behind Patuxent Commons?
A group of public and private sector community leaders and stakeholders, led by the Howard County Autism Society (HCAS), came together to plan and develop this concept under the direction of a 12-member
Task Force. In 2019, following a competitive selection process, the Task Force chose Mission First Housing Group to be the developer for Patuxent Commons. Mission First is a highly experienced developer and manager of affordable housing developments throughout the mid-Atlantic region. They have particular expertise in innovative housing models that support populations with special needs, experience which makes them well - equipped to execute the Patuxent Commons vision. The Howard County government, the State of Maryland, the Federal government and private philanthropists have also provided critical support for the project.
What's unique about this concept?
At Patuxent Commons, residents of all abilities will be welcomed and encouraged to be good, engaged neighbors. This will mean different things for different people, depending on their interests, abilities and inclinations. For some people, it'll mean checking in with a fellow resident every now and then and inviting them over for an occasional dinner or cup of coffee. For others, it'll involve giving someone a ride to the mall, helping with a job interview, or simply taking the time to talk. For everyone, it'll mean an opportunity to be a part of a mutually supportive community with neighbors who share their values and commitment to diversity.
Why are only 25% of the units set aside for people with disabilities, if that is the project focus?
From the earliest stages of planning of Patuxent Commons, HCAS and other stakeholders of this project have been firmly committed to creating a genuinely diverse and inclusive community. Limiting the number of units specifically set aside for people with disabilities will help ensure that people of all abilities are able to live as neighbors at Patuxent Commons. Additionally, the 25% cap also aligns with state and federal policy and funding restrictions designed to support the full inclusion of people with disabilities into the larger community. There is widespread agreement that community integration can best occur when no more than 25% of units in a development are occupied by persons with disabilities. HUD and MD funding programs that support projects like these actually cap the number of units set aside for persons with disabilities at 25% - anything above that set-aside, and the project would not qualify for financing from these federal and state sources. Court cases like Olmstead v. L.C. paved the way for the de-institutionalization of persons with disabilities into more integrated settings.
Will this be a gated community?
No. It'll be freely accessible, fully inclusive and very much a part of the Hickory Ridge neighborhood. Residents will make their own decisions about how they want to spend their time and with whom they want to associate. Patuxent Commons will be a springboard for people with and without disabilities to experience an even greater degree of engagement with the larger community.
Will apartments be for rent or sale?
All units will be rentals.

How is it being funded?
A diverse set of revenue sources will support the construction of the project. Public funds are an important component of capital costs; the Howard County government has committed over $3 million of county funds and major state, federal and private grants have been awarded or committed.

Is this project only for people with autism?
No. While HCAS has a special interest in addressing the needs of individuals with autism, this project will serve individuals with a range of disabilities, as well as in dividuals with typical abilities.
What will the Unit Mix be at the site?
The unit mix has been slightly updated since the original proposal in 2020 to include a larger proportion of 1 BR units, and less 2BR and 3BR units. We believes this mix better targets the population we seek to serve.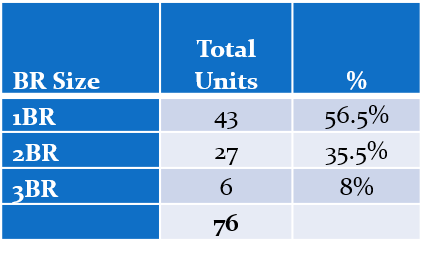 What are the unit set-asides at the property?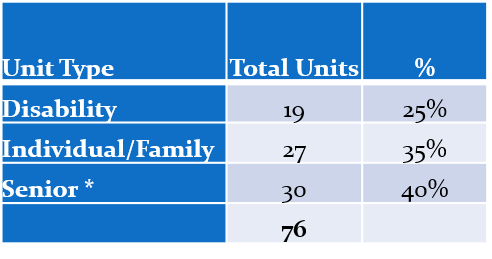 * To comply with Fair Housing, Senior Units will be a "Preference" and cannot exclude seniors with minor children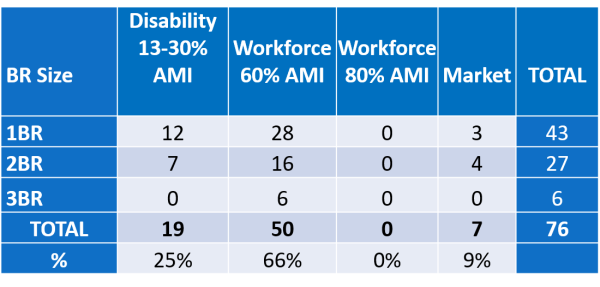 The income targeting has been updated since the original proposal in 2020, due to a change in IRS regulations.
What is the project schedule?
Below is an UPDATED schedule as of September 2022. A "best case" schedule is shown below.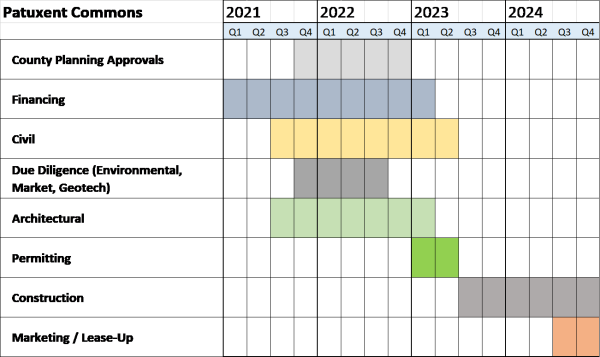 How will the residents of the disability units be selected ?
It will depend on the final funding sources, but prospective residents for the disability units will likely be selected through a combination of direct applications from the public and applications from individuals on Federal and State waiting lists.
I'm interested in living at Patuxent Commons. Can I apply or get on a waiting a list?
No applications are being taken at this time, and there is no waiting list yet. As project planning advances, information about resident selection and applications will be provided.
What project research have you undertaken and community input have you engaged to date?
We've invested considerable time and resources in due diligence activities, including development of program guidelines, preliminary market research, financial feasibility, and initial architectural design concepts. We've also held conversations, large and small, with
community members to actively seek their advice and input regarding the development of this concept. And we'll be undertaking a series of "user design" sessions with prospective residents and stakeholders over the coming months to gather additional input that will inform the ongoing planning and development of Patuxent Commons.
How many school age children do you expect the property to generate?
The County has performed an updated student generation report in 2022 for the proposed project and anticipates that the maxmimum number of students generated would be 36 school age children, based on updated student generation data from similar properties in the County. We believe the disability units and senior preference units are unlikely to have children, however do not have data to back that up, so believe that 36 units is the "ceiling" of possible children.