Concept 1 Site Plan Submitted to Alexandria Department of Planning & Zoning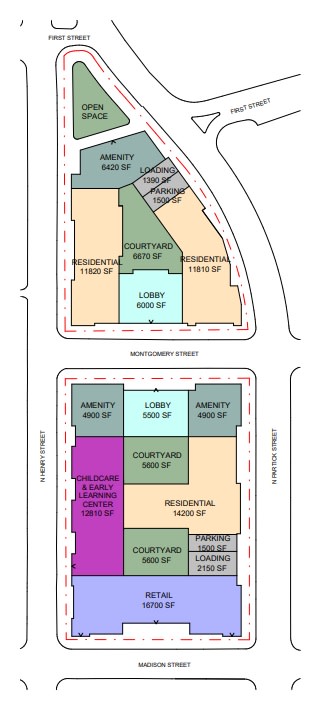 The Concept 1 Site Plan was submitted to the Alexandria Department of Planning & Zoning for initial review and feedback from City staff.
As per the City of Alexandria's Development Review Process, a Concept Plan review is an informal process designed to identify major issues before investment in detailed engineering. For Concept Stage 1, the sponsor of a proposed development provides City staff a rough outline and sketches of the proposal. Staff then provide input relating to the project's consistency with City plans, the application types necessary for approval, and what issues need to be addressed in order to move the project through review. The sponsor provides basic information on the proposed project—the site plan, development program, building footprint, parking, etc. An assigned project planner schedules the Concept Plan for an interdepartmental review (IDR) consisting of City staff and other public agencies. Initial comments are then sent back to the sponsor before Concept Stage 2 is required.