Evolution of the Wilton Mall
Recent years have seen unprecedented changes in the retail industry, requiring shopping malls to evolve.
The key to long-term success is transforming our high-quality properties into regional town centers with appealing new uses designed to encourage more reasons for people to spend time with us. This ranges from residential, commercial, and medical offices to hotels, wellness destinations, grocery, co-working and large-format entertainment. We value being part of people's lives in Wilton and are fully committed to the right transformations that will continue to position Wilton Mall for success – now and in the years to come.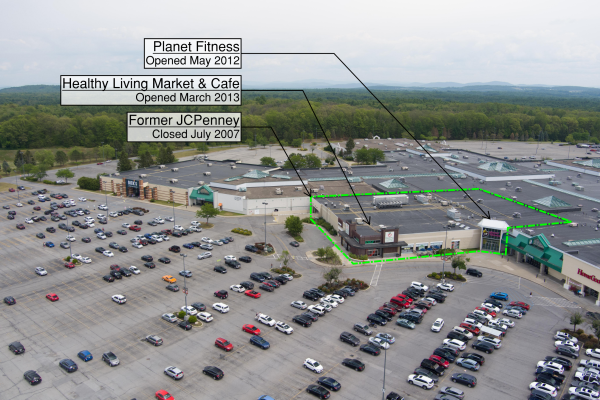 Wilton Mall's first repurposing of vacant anchor retail space into a Grocery Store and Fitness Center.
When the original JCPenney anchor store closed in July 2007, Wilton Mall backfilled the former retail space with a Grocery Store and Fitness Center. This marked the first steps toward the shopping center's mixed-use evolution. In 2018, Wilton Mall was faced with the closures of Sears and Bon Ton. Within two years the Saratoga Hospital opened in the former Sears store. Today, Wilton Mall has an opportunity to further expand upon what it offers to this vibrant community with its uses and plans to repurpose the former Bon Ton site with amenity-rich apartments and townhouses.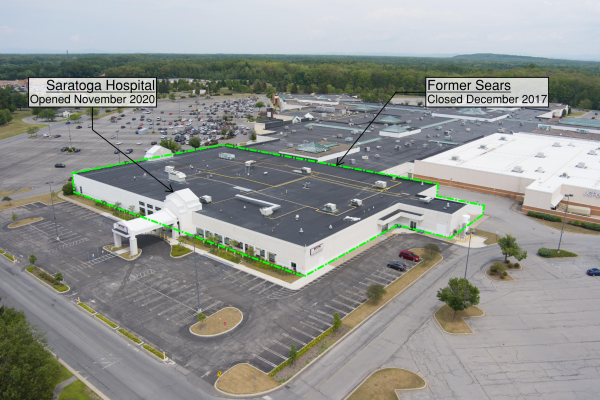 It took Wilton Mall less than two years to repurpose the vacant Sears store into Medical Offices.
The creation of a new zone that supports and encourages the redevelopment of this underutilized commercial property into a vibrant and sustainable mixed-use center is a key step in its continued evolution.
By adding residential to our zoning, the residents are an adjacent customer that will support existing retailers and attract new brands to market, and is an ideal complement, to the current mixed-use components of Grocery, Fitness and Medical Office.
The vacant Bon-Ton store is perfect for Wilton Mall's next exciting mixed-use vision.